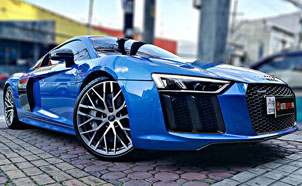 Did you know that AUDI R8 has been used in a number of hollywood movies for the past years. It appeared in one of the most controversial films of the century, Fifty Shades of Grey. Robert Downey Jr. literally owned an AUDI R8 in his movie the Avengers, Age of Ultron and not to mention his IRON MAN movie also featured the gorgeous car from the future. Needless to say that this is one of the hottest car this year, 2018.                                                                                                                                                   
In a more definitive aspect, you could actually say that this can match the other supercars from the most popular brands like Ferrari, Porsche and McLaren.                                                       
You'll be fascinated with it's 5.2L V-10 engine that transmits power to the rear and front wheels via 7-speed dual-clutch transmission. This 540 horsepower coupe in autosupply.ph collection breezes the classiness and stylishness that exudes inside out, everywhere you take it. You may also want to pay attention to its' "Virtual Cockpit digital instrument" that sends back the traditional analogue gauges from other cars back to school. It has a reconfigurable 12.3-inch display that shows all vehicle information including infotainment and navigation directly ahead of the driver. It also has an AppleCar play and Android Auto, keyless entry/start, 19-inch alloy wheels, Audi Drive Select, a rear view camera, parking sensors, and a Bang & Olufsen premium audio system…
So, if ever you ask yourself the definition of driving a car at its' best, this is it…
Audi R8 is closely related to the Lamborghini Huracan since both use the same V-10 engine and dual-clutch transmission except that this cost a lot less than that. Whatever the price is… Audi R8 still takes its' worth and keeps you saving a few more in the bank.